Many people don't start thinking about their pensions until later in life. Even after years of making contributions and the hard work you put into saving, old pension schemes can be hard to keep track of.
Forgetting about old pensions is so common in fact, that it has resulted in nearly £20bn remaining unclaimed.1 You've made the contributions, so it is only right that you reap the rewards in retirement. In this article, we will look at how to track down old pensions you may have forgotten about and what you can do with them once you have located them.
Why do pensions remain unclaimed?
Losing or forgetting pensions has resulted in around 1.6 million pension pots worth £19.4bn being left unclaimed, according to the Association of British Insurers (ABI).1 This is the equivalent of nearly £13,000 per pension pot.
Let's take a look at why so many pensions are left unclaimed.
Moving house
Moving house plays a big role in forgetting or losing old pensions. With so much to do when moving house, updating your pension providers often falls to the bottom of the list so it's easy to forget about. Research conducted by the ABI shows that only 1 in 25 people think to tell their pension providers of their change of address.1 If you are one of these people, you most likely have joined the masses with an unclaimed pension. Most providers send annual statements which include an estimated retirement income. Without this regular reminder, it is easy to forget about an older pension.
In 2017, 40,000 attempts were made to contact customers, leading to £1bn in assets being returned.1 While this may seem like a lot, it is only a fraction of the unclaimed funds. Providers typically make these attempts by sending out letters. But without the correct address, they are unable to track people down and reunite them with their money.
Changing jobs
Another cause is changing jobs. Once you have changed jobs, you are no longer paying contributions to your previous pension schemes and become focused on your current one. We all forget about things when we no longer have to think about them.
People are moving house and changing job more than ever with the average person changing jobs 11 times in their lifetime and moving house 8 times, leaving more and more pensions unclaimed. The government predicts that there will be up to 50 million dormant or lost pensions by 20501. So, what can you do to ensure you stand apart from the masses?
How to trace your lost pensions
Moving house and changing jobs makes it hard to keep track of pensions. In addition to this, pension schemes can be closed, merged, or renamed, making it more difficult to track them down under their original name. When tracking down old pensions, start by locating any paperwork you would have received from the provider or your previous employer. If you are no longer receiving statements because you changed address, for example, you can also contact your pension provider or previous employer to find out more details about your pension scheme.
Contacting your pension provider
When contacting your pension provider, you will need to supply a range of details so they can locate your pension. Once they have found it, you can learn:
The current value of your pension pot
How much income you are likely to receive at retirement
How much has been paid into the pension pot
How the pot is being invested and if you can make any changes
Any charges you are paying for management of the pot
If there is a fee to transfer to a different provider
Any special features such as guaranteed annuity rate or guaranteed minimum pension
Any nominated recipients for death benefits
What the death benefits are
Contacting your former employer
To track down a workplace pension, the first thing to do is contact your former employer. They should be able to provide the details of your pension scheme as well as the type of scheme you had.
Other ways of locating your pension
If trying to locate your lost pensions is proving difficult, speaking to a financial adviser could help. They can guide you on gathering the right details and, in most cases, locate your pension for you. An adviser can also analyse your pension schemes and help you make the right decisions about your money. It could mean a significant boost for your savings.
You can also find out where your pension contributions were being paid by looking at old bank statements or payslips. This might help you to identify the name of the provider. Pensions sometimes get taken over by the Pension Protection Fund, making them difficult to find under the original name of the provider. This happens when an employer is not able to pay the pension benefits promised to its members.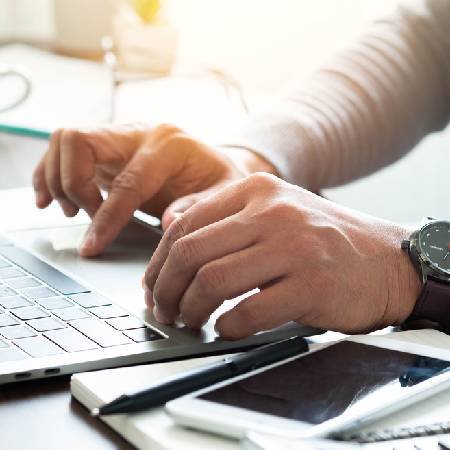 What to do when you've located your pensions
So, you've located your lost pensions, leaving you in a better position for retirement. But what should you do with them next? To begin with, moving older pension plans into your current plan could make things easier to manage. You can also explore other pension providers to see if there is a better home for your savings. Switching your pension to another provider could help grow your pot even more, leaving you in a better position when you retire.
A regulated financial adviser will search the market for a scheme with lower charges and a history of better performance. They can then manage your pension for you every step of the way, ensuring that you get the best pension scheme out there with the benefits that suit you.
Here at Pension Access, we have negotiated discounted rates with the pension suppliers we use and our portfolios have consistently beaten the industry benchmark over the past 20 years.2
It's important to remember that past performance is not a reliable indicator of future results.
Greater funds equal a better retirement
It is easy to lose track of the details of a pension plan you haven't managed in years. So common in fact that millions of people in the UK have money unclaimed. You want to have access to all the funds available to you when you reach retirement, especially as you've worked hard for them. By seeking the help of a financial adviser, you will get better benefits from your pension scheme to make your savings grow. You will also have the security of knowing that a regulated professional is managing your pension every step of the way.
1 https://www.abi.org.uk/news/news-articles/2020/05/19.4-billion-of-pension-pots-unclaimed-just-because-of-house-moves/?timeout=s
2 Source: FE Analytics and Dimensional Return programme 2.0. When we talk about the benchmark, we are referring to an Investment Association average composition that matches the risk rating for the portfolio. It's important to remember that past performance is no guarantee of future results.
The details provided in this article are for general information only and are in no way deemed to be financial advice. All of the material is correct as of the publication date, but could be out-of-date by the time you read the article.