It is common for most of us to have to borrow money at some stage in our lives. For instance, you'll need a mortgage to buy a home unless you have a few hundred thousand stashed away. Or, you might have to borrow to afford a new car, holiday, or make other significant purchases.
However, your ability to take a loan all depends on your credit score. Those prepared to lend you money if your score is low will charge much higher interest rates. And this could jeopardise your financial security.
So, it's a good idea to develop a good credit score as soon as possible. The good news is that you can boost your credit rating quickly with some simple planning and a few well-informed decisions. Here are a few of the best ways to achieve this.
1. Set up a bank account
You might think that paying with cash you have securely stashed around your home is an excellent way to organise your finances, but you couldn't be further from the truth. To demonstrate any financial responsibility, you must have a bank account.
The next stage in boosting your credit score through your bank account is ensuring you have sufficient funds to cover your direct debits and standing orders. Again, doing so will demonstrate you have the financial discipline and responsibility to pay your bills, and your credit score will reflect this.
Another way to boost your credit score through your bank account is to use your overdraft facility. Your overdraft is a form of borrowing, and paying it off before the grace period ends will reflect positively on your credit score. Of course, failing to reconcile your overdraft early can have a reverse effect, so don't use it unless you're confident you can pay it back quickly.
2. Enrol on the electoral register
Although doing this will not affect your actual finances, it can positively affect your credit score, according to credit experts Experian. That's because many companies use the Electoral Register to confirm your name and address.
Of course, you may have a genuine reason for not being on the Electoral Register, such as not being a UK citizen. In this situation, you can contact Experian, Equifax, TransUnion, and other credit agencies and inform them you are not on the register. Doing so will mean your credit score doesn't suffer unnecessarily.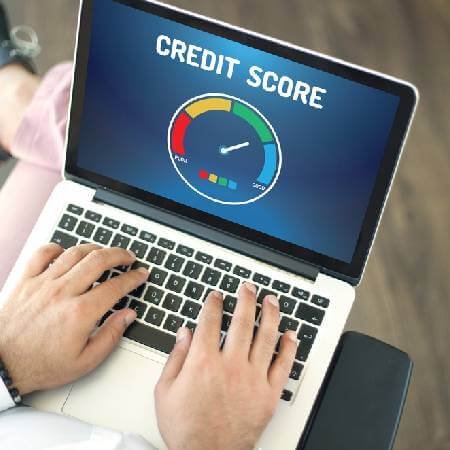 3. Pay your bills on time
Paying your regular bills on time will go a long way to boosting your credit score. Conversely, missing payments or being taken to court for non-payment will devastate your rating. This tip links to our first one above – ensuring you have sufficient funds in your bank account to cover your regular payments.
4. Use a credit card
Of course, you might not be able to get a credit card until you have a sufficiently good credit score. However, you should start using a credit card as soon as you can. Using these cards responsibly can boost your credit score quickly.
Responsible use of a credit card means two things. Firstly, don't max out your credit card limit; restrict it to 25-30%. For example, if your card limit is £2,000, only use £500-600 at once. Also, ensure you pay back the balance before the interest is due. Doing these two things regularly will demonstrate you are a responsible borrower, and your credit score will rise.
You can get a credit builder card if you don't qualify for a credit card. These often have low credit limits and high interest rates. So, while they are an excellent way to get used to borrowing and repaying loans responsibly, be sure to make your repayment on time to avoid high charges.
5. Show patience
Even by adopting these tips, boosting your credit score takes time. Therefore, you must show patience and stick with it. Don't try to do too much too soon, as applying for multiple loans or credit cards can have a reverse effect on your credit rating.
It is much better to take on small loans and pay them back as soon as possible. Doing so will not only get you into better financial habits, but it will also show you as a responsible borrower.
Get started on enhancing your future finances
At some stage of your life, you will probably have to borrow. Consequently, you must have a decent credit score. Hopefully, following these five simple steps will boost your credit score and enhance your financial prospects.
The details provided in this article are for general information only and are in no way deemed to be financial advice. All of the material is correct as of the publication date, but could be out-of-date by the time you read the article.