Trying to imagine a child's financial security in retirement is probably not the most urgent problem for a parent. New parents tend to be busy dealing with the here and now, rather than worrying about finances some sixty years in the future. But the fact is, there is still real concern that there may well be many people living in poverty in retirement because they did not take saving for their post-work years seriously enough. Expert advice suggests you cannot start saving too early for retirement.
Beyond the here and now
Starting a pension for a child can really be beneficial to a child's security and also introduce the concept of "putting money away". All parents no doubt will be reiterating the need for "saving for the future" in everyday life when a child reaches a certain age. A pension set up by their parents or guardians reinforces the concept of looking ahead for the long-term future. It not only allows the parent to chat about long-term ideas but also confirms that it is important to save for a time beyond the "here and now".
Even though planning for your child's long-term future can be a form of security and education, it is too often seen as a luxury rather than a necessity. Added to that is the current economic climate. As global economies struggle, we are all in a position where stretching finances on a daily basis can seem worrying. As inflation reaches new highs, we all tend to live more and more in the now. However, the future is still an important place to take into account. So, maybe saving for the long-term future – even if we can only contribute a tiny amount – can be essential for their security and education.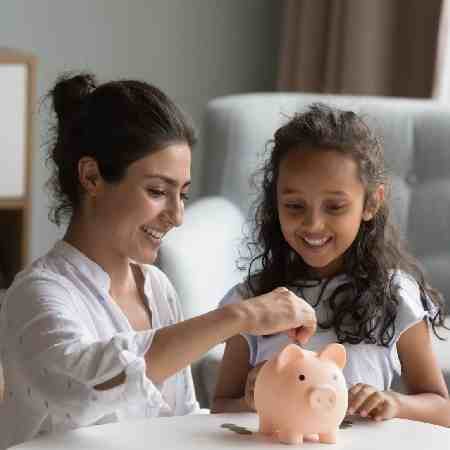 How can I start a pension for my child?
How can you start a pension for your child and how do you go about it? What are the pitfalls to look out for and should that money really be going on the long-term future?
Of course, you can save for your child's long-term future in many ways – this does not have to be via a pension. But if you want to focus on retirement, it is a good idea to start with a "Junior SIPP (Self-Invested Personal Pension)". The parent is allowed to contribute a maximum of £3,600 a year. Also, others can contribute too (for instance grandparents).
Like an adult pension, a junior pension will attract tax relief. Also, because you have started saving early, any investment you make will benefit from the compound effect (i.e., you will receive interest on your interest). Of course, there is always the risk that the investment could go down. But, as with any investment, the longer the period your savings are held, the more likely the down periods will be swallowed up by good progress. When a child turns 18, the Junior SIPP becomes a normal adult pension fund.
However, bear in mind this money cannot be accessed by your child (under current regulations) until they are in their fifties. If you want your child to at least have the flexibility of accessing their savings earlier, it may be worth considering a Junior ISA. (Saving in this way is excellent for mid-term necessities like weddings, university etc.)
Opening a junior SIPP
It must be a parent or legal guardian who opens the Junior SIPP, but anyone can contribute to it. The parent has control over the fund until the child turns 18. When the fund is started, the parent or legal guardian will also nominate a beneficiary should the child not live beyond their childhood.
Issues with a child pension
As much as this will be a great step forward for your child's future – this money cannot be accessed for up to another fifty years without a tax penalty (which could be as high as 55%). Therefore, when you contribute, you are in a sense locking money away. Ensure your own retirement is covered and you have money set aside for yours and your child's short/mid-term milestone needs.
We are living through an economic crisis at the moment and finances may well seem unpredictable. Make sure you have an emergency fund for possible downturns in the mid-term future before considering your child's long-term future.
Other more prominent milestones (i.e. university, buying a house) may well seem just as important to save for. These milestones could be considered mid-term. As essential as these savings may be, they should not overshadow the need to save for the long-term future.
Conclusion
The concept of retirement has changed over the last 100 years. After the war it was a period where state pensions allowed you to get by, life expectancy was much shorter, and science offered much less concerning medical problems of old age. In the 21st century, we can look forward to a more active retirement for a period of between 30 and 40 years. It is now becoming the third era in our lives which, if we are going to enjoy it to the fullest, we need to prepare for it.
You can never start saving early enough for your retirement. Starting a pension for your child (which will eventually transform into an adult pension) is a great way to not only secure their long-term future, but also help educate them on the concept of long-term saving – and pensions themselves.
Currently in the UK we are experiencing an economic downturn which makes considerations for the far future difficult. But just as the importance of the here and now is so important, so is that post-work period. So, helping your child get one step on the ladder by opening a Junior SIPP, may well be a great move.
https://www.thetimes.co.uk/money-mentor/article/best-junior-sipps/
https://www.thetimes.co.uk/money-mentor/article/pensions-for-children/
The details provided in this article are for general information only and are in no way deemed to be financial advice. All of the material is correct as of the publication date, but could be out-of-date by the time you read the article.